REGGAE DIVAS
In a genre that is predominantly male dominated Renascence Entertainment created Reggae Divas – Celebrating Women In Reggae Music with the official launch on April 11,2015. Our objective throughout has been to showcase Female Reggae Artists in their own production to highlight their talents and abilities and opportunities for growth within the industry. Constant radio airplay and live stage performance do not come easily; female artists are often placed in the background as back-up vocalists, event coordinators or on collaborative projects.
Reggae Divas begins a new era for Female Reggae Artists as the talent of Women in Reggae soars beyond the parameters of what is often perceived in this industry. Over the years Female Artists have been working hard in their careers; writing great songs of empowerment and staying focus on perfecting and improving their craft while being partners, mothers and full time employed workers.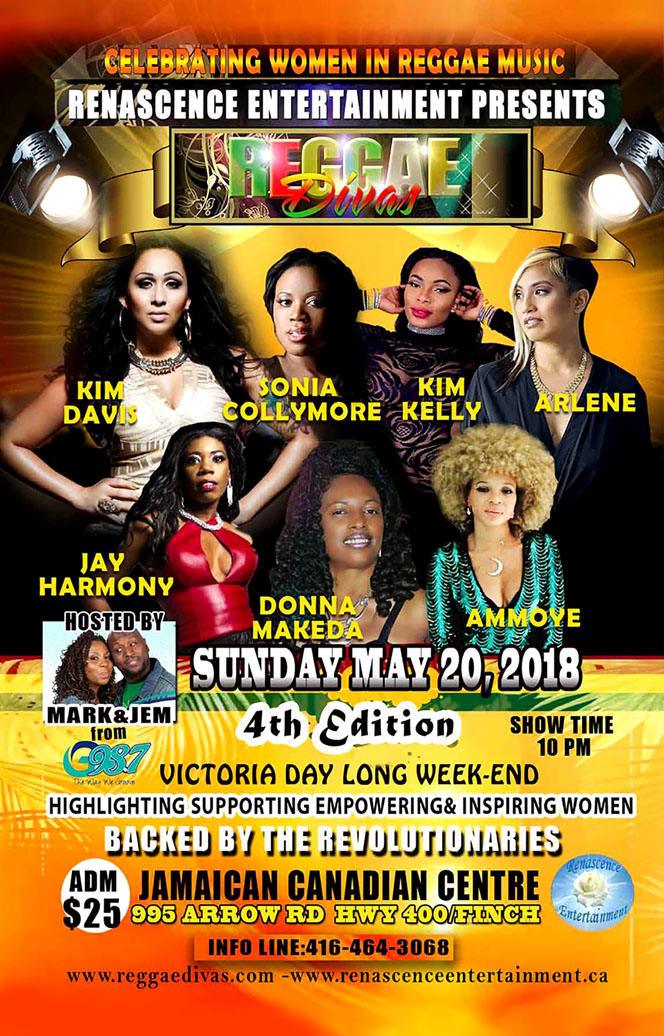 In a male dominated genre where woman make up a small community, limited attention is given to the female voice in reggae music, especially on Canadian soil.
Read more
Reggae Divas Concert sets the tone for the continued success of this movement as different Female Reggae Artists is showcased every year in an effort to recognize, motivate, support, inspire and empower Women in the Reggae industry in Canada and internationally Renascence Entertainment and Reggae Divas Team encourage this industry, from media to promoters, DJ's and radio personnel to represent Female Reggae Artists on an equal platform as our Male Reggae Artists. This also puts the onus on Female Reggae Artists to continue to stay focused and dedicated to their careers in Reggae Music.